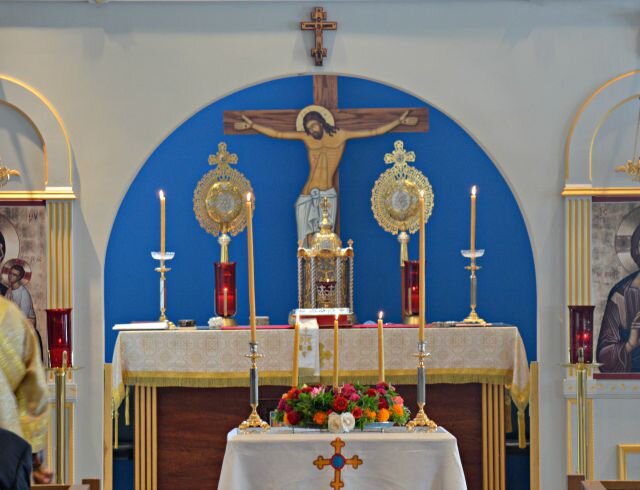 "Welcome one another, therefore, just as Christ has welcomed you, for the glory of God." - Romans 15:7
Through this website, we are pleased to introduce you to the worship and fellowship that defines the life of our Parish, the Ascension of Our Lord Greek Orthodox Church. If you are a new member of our Parish, or are considering membership, these web pages will acquaint you with what Ascension offers to those who give it support and sustenance. To those who already belong to the Church, we hope the information on this website will provide you with the assurance that your sacrificial offerings are received with profound respect, and are utilized to maximum effectiveness. It is our prayer that the information presented here will enable you to make the informed decisions that are necessary for a meaningful relationship with your Church.
---
Services Schedule
Sundays: Orthros: 8:15 AM | Divine Liturgy: 9:30 AM
Weekdays (As Scheduled on Scrolling Calendar):
Orthros: 8:15 AM | Divine Liturgy: 9:15 AM (unless otherwise noted)
Week of July 17 - 24

SERVICES:

Tuesday, July 26: St. Paraskevi of Rome
Orthros: 8:15 a.m. | Divine Liturgy: 9:15 a.m.
Wednesday, July 27: Panteleimon the Great Martyr
Orthros: 8:15 a.m. | Divine Liturgy: 9:15 a.m.

UPCOMING PARISH EVENTS/MEETINGS:

Monday, July 25: Executive Committee Meeting, 7 p.m.
Thursday, July 28: Senior Synaxis Annual Picnic, 1 p.m.

For a complete service schedule click here to be redirected to the parish calendar.
Click to view this week's bulletin.

Click Here for the Thekapentavgousto Schedule
Click Here for information on Ascension's Capital Campaign
Click to read the parish's current newsletter.
Click here for schedules and more information on all of our Ministries. NOW OPEN: Registration for Sunday Church School and Greek School!
Ascension of Our Lord Greek Orthodox Church
1207 Riverwoods Rd.
Lincolnshire, IL 60069
Father Sotirios P. Malamis, Proistamenos
Voice: (847) 482-1200
Fax: (847) 482-9566
email: info@ascensiongoc.com
For questions or suggestions about this website, contact the webmaster
Spirituality
The Orthodox Church proclaims the Gospel of Jesus Christ. In the Greek language, the word for Gospel is Evangelion which means literally "the good news." Learn more»