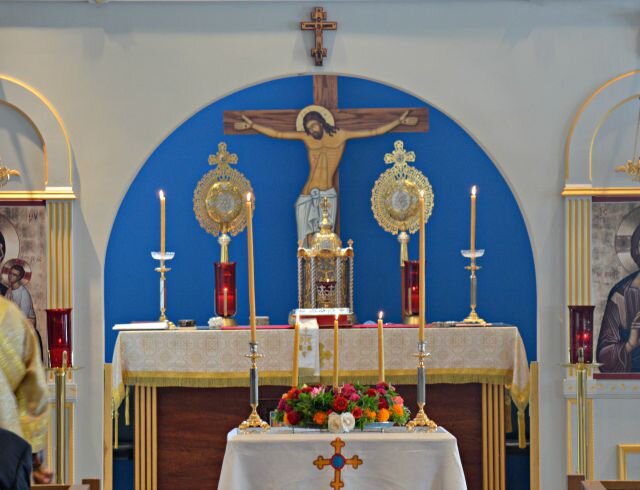 "Welcome one another, therefore, just as Christ has welcomed you, for the glory of God." - Romans 15:7
Through this website, we are pleased to introduce you to the worship and fellowship that defines the life of our Parish, the Ascension of Our Lord Greek Orthodox Church. If you are a new member of our Parish, or are considering membership, these web pages will acquaint you with what Ascension offers to those who give it support and sustenance. To those who already belong to the Church, we hope the information on this website will provide you with the assurance that your sacrificial offerings are received with profound respect, and are utilized to maximum effectiveness. It is our prayer that the information presented here will enable you to make the informed decisions that are necessary for a meaningful relationship with your Church.
---
Services Schedule
PLEASE NOTE: On Sunday, September 10, 2017, Ascension held a site blessing and groundbreaking service to sanctify the foundation upon which our new church will be built. It was the last Liturgy celebrated in our temporary parish home. During the construction process, SUNDAY ORTHROS, DIVINE LITURGY AND SUNDAY CHURCH SCHOOL will take place at Daniel Wright Middle School, 1370 Riverwoods Rd., Lincolnshire. Tuesday evening Greek School classes will also take place at Daniel Wright School. Ministry Meetings and Thursday evening Adult Greek School, effective this week, will take place at the home that Ascension rented just south of the church: 1221 North Riverwoods Rd., Lake Forest, unless otherwise noted. Communication about the life of the Ascension parish is sent out regularly via email blasts. If you aren't receiving these notifications and would like to, please click the "Join our Email List" icon on the righthand side of this webpage.
Sundays: Orthros: 8:15 AM | Divine Liturgy: 9:30 AM
Weekdays (As Scheduled on Scrolling Calendar):
Orthros: 8:15 AM | Divine Liturgy: 9:15 AM (unless otherwise noted)
May 20 - 27, 2018
SERVICES:
Sunday, May 20 Fathers of the 1st Ecumenical Council 8:15 a.m.: Orthros | 9:15 a.m. Sunday Church School | 9:30 a.m. Divine Liturgy (@ Daniel Wright Middle School) | 7 p.m.: Great Vespers @ Sts. Constantine & Helen Church, Palos Hills
Monday, May 21 Sts. Constantine & Helen 8 a.m.: Orthros | 9 a.m.: Divine Liturgy
Sunday, May 27 Holy Pentecost 8:15 a.m.: Orthros | 9:30 a.m. Divine Liturgy followed by Kneeling Vespers (@ Daniel Wright Middle School)
UPCOMING PARISH EVENTS/MEETINGS:
Sunday, May 20, following Liturgy: Sunday Church School Program | General Assembly
Monday, May 20: 5:45 p.m.: JOY, Jr. GOYA End-of-Year Celebration | 7:30 p.m.: GOYA Senior Recognition & 8th Grade Step-Up, Backyard Grill, Highland Park
Tuesday, May 22: 4:45 p.m.: Greek School End-of-Year Program & Graduation
Thursday, May 24: Adult Greek School Tour of Hellenic Museum of Chicago followed by dinner at a Greek restaurant
Friday, May 25 - Sunday, May 27: Junior Olympics @ Sts. Constantine & Helens On Saturday a.m., Ascension team members should gather before 8 and look for the Ascension banner so that we may march into the field for the "Parade of Churches". Click HERE for schedule.


For a complete service schedule click here to be redirected to the parish calendar.
Click to view this week's bulletin.
Click HERE to read the current issue of the Analypsis Newsletter.
CLICK HERE to LEARN MORE ABOUT AND REGISTER FOR OUR MINISTRIES!
Ascension of Our Lord Greek Orthodox Church
1207 Riverwoods Rd.
Lincolnshire, IL 60069
Father Sotirios P. Malamis, Proistamenos
Voice: (847) 482-1200
Fax: (847) 482-9566
email: info@ascensiongoc.com
For questions or suggestions about this website, contact the webmaster
House of God
The visitor to an Orthodox Church is usually impressed by the unique features and the external differences between this place of worship and those of the various traditions of Western Christianity. Learn more»