Feed My Starving Children Parish Service Project
NOVEMBER 13th FEED MY STARVING CHILDREN SERVICE PROJECT
Parish Members are invited to take part in a service project at Feed My Starving Children (FMSC) in Libertyville on Monday, November 13th, from 6:45 – 8:45 p.m. where we will hand pack meals that are specially formulated for malnourished children. Space is limited and registration is required by November 9th. Volunteer guidelines are listed below. Ascension will be offering a monetary donation to FMSC that evening so even if you cannot be there in person you can still help by making a donation via the registration button below. Join us in helping turn hunger into hope! Please join us for this special evening of fellowship and service.
WE HAVE REACHED CAPACITY. PLEASE CALL THE OFFICE TO BE ADDED TO THE WAITING LIST.
---
From the FMSC Website:
Thank you for considering volunteering with FMSC! Below we've listed a couple important details that are good to know when preparing to pack meals at any Feed My Starving Children site.
Volunteer age requirements
Please follow this student-to-adult ratio when registering to volunteer:
For safety reasons, children under the age of 5 are not allowed in our packing area (sorry, no exceptions)
Grades K-2: 1 student to 1 adult*
Grades 3-6: 3 students to 1 adult
Grades 7-12: 4 students to 1 adult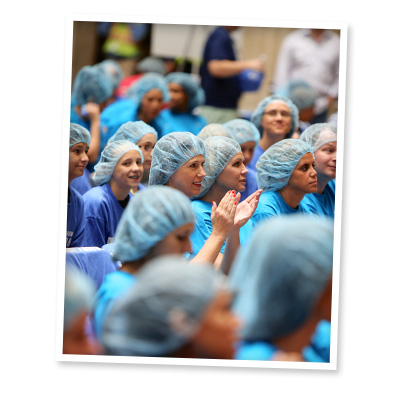 High school groups
At least half of the required chaperones must be non-student adults (teachers, advisors or parents). If needed, a few 18-year-olds will be allowed to fill in as chaperones.
Please Note: Everyone under the age of 18 must be accompanied by an adult (an adult is someone 18 years of age or older).
*We recommend that groups of youth be third grade or older.
FMSC staff members reserve the right to amend volunteer scheduling.
Jewelry policy
To comply with FDA requirements and remove all opportunity for foreign objects to fall into our life-saving meals (which could cause choking, tooth breakage and more), FMSC volunteers must remove all jewelry and/or accessories before packing.
No jewelry is permitted in the packing room, labeling areas, Warehouse Crew area or when inspecting raw ingredients.
Prohibited jewelry includes earrings, watches, rings, necklaces, pins, brooches, etc.
Wedding bands are permitted. However, if your band has a stone, you will be required to wear a glove.
Facial piercings, gauges and new earrings that lock in the back are permitted (please inform a staff member).
Medical alert bracelets and necklaces may be worn.
Jewelry FAQs
Will there be a safe place for me to put my jewelry at FMSC?
There are a limited number of lockers available for use at our permanent packing sites, with a personal pin code locking system. FMSC is not responsible for the safekeeping of any volunteer's jewelry, so if you are concerned, it is best to leave it at home.
Can I put my jewelry in my pocket?
No, please do not place loose jewelry into your pockets. However, FMSC will provide a plastic, zipped bag for your jewelry, which you can then place into your pocket.
I've volunteered at FMSC in the past and was allowed to wear jewelry, why can't I do that anymore?
In order to comply with FDA standards for food manufacturing plants, FMSC was required to change the jewelry policy. The quality of our food is very important to us—this updated policy will help to insure that foreign objects will not contaminate our food.
If my earrings will be covered by the hairnet FMSC makes me wear, can I leave them in?
No, you still must remove your earrings.
More questions? Visit the FMSC FAQ PAGE by CLICKING HERE
---