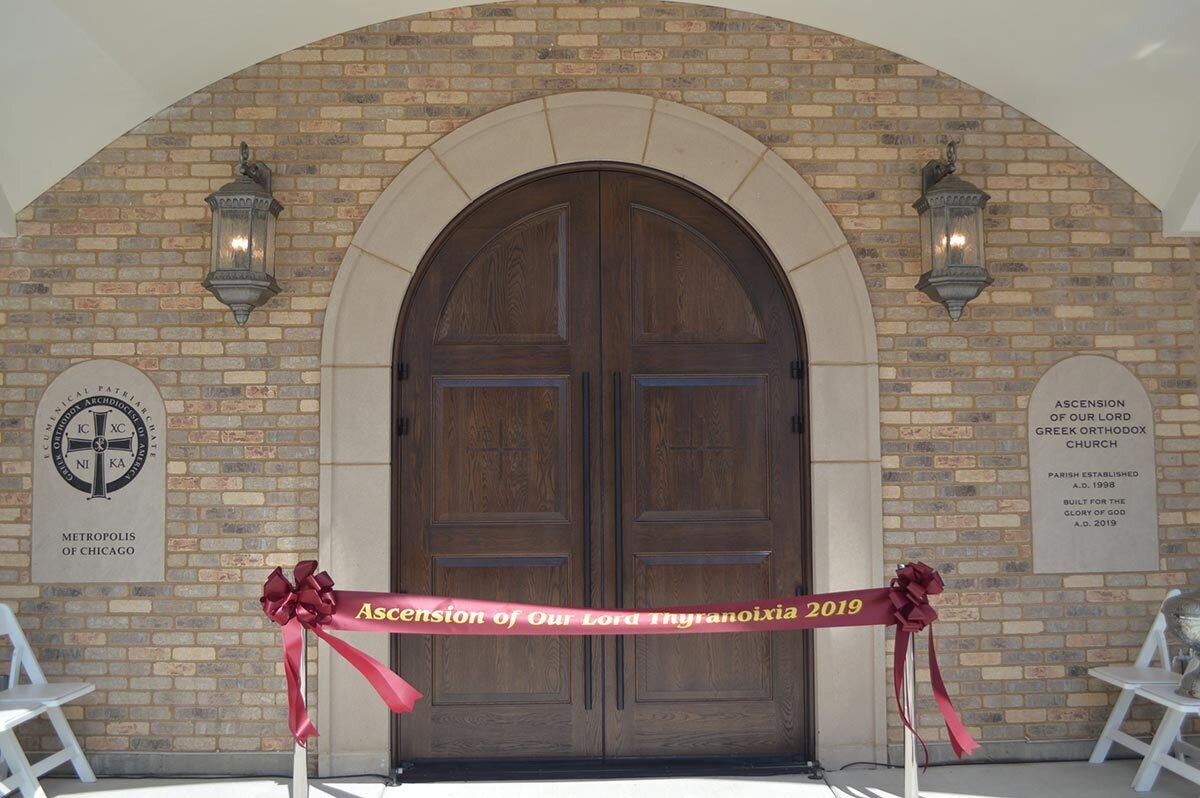 "Welcome one another, therefore, just as Christ has welcomed you, for the glory of God." - Romans 15:7
Through this website, we are pleased to introduce you to the worship and fellowship that defines the life of our Parish, the Ascension of Our Lord Greek Orthodox Church. If you are a new steward, or are considering joining our Parish community, these web pages will acquaint you with our Parish life and what Ascension offers to those who give it support and sustenance. To those who already belong to the Church, we hope the information on this website will provide you with the assurance that your sacrificial offerings are received with profound respect, and are utilized to maximum effectiveness. It is our prayer that the information presented here will enable you to make the informed decisions that are necessary for a meaningful relationship with your Church.
---
Services Schedule
With the blessings of our Spiritual Shepherd His Eminence Metropolitan Nathanael of Chicago, Ascension is now in Level 3. This means we are able to have 80 congregants worshipping in our church and 50 in our fellowship hall. Follow THIS LINK to register and review the measures and directives we have put in place for the health and safety of our parishioners. You may also stream our services live on our website HERE. Please do not hesitate to call our office with any questions at 847.482.1200, or contact us by email.
Sundays: Orthros: 8:15 a.m. | Divine Liturgy: 9:30 a.m.
Weekdays (As Scheduled on Scrolling Calendar):
Orthros: 8 a.m. | Divine Liturgy: 9 a.m. (unless otherwise noted)
October 25 - November 1, 2020
SERVICES: (Click on each service below to follow along with the text.
UPCOMING PARISH EVENTS/MEETINGS
Monday, October 26: 6 p.m .Jr. GOYA | 6:30 p.m. Greek School, 4th/5th Grade, via ZOOM | 7:30 p.m. GOYA
Tuesday, October 27: 4 p.m. Greek School | 7 p.m. Orthodox Catechism Class
Wednesday, October 28: noon: COVID Parish Safety Team Meeting
Thursday, October 29: 5:30 p.m. Adult Greek School Beginners/Advanced Beginners (Zoom) | 7 p.m. Adult Greek School Intermediate/Advanced (Zoom)
Saturday, October 31: 6 p.m. Byzantine Music Class
---
- Quick Clicks -

Click to register for Ascension's Ministries!

Ascension of Our Lord Greek Orthodox Church
1207 Riverwoods Rd.
Lincolnshire, IL 60069
Father Sotirios P. Malamis, Proistamenos
Voice: (847) 482-1200
Fax: (847) 482-9566
email: info@ascensiongoc.com
For questions or suggestions about this website, contact the webmaster
Click HERE to view full monthly calendar
Special Services
At the center of the life of the Church is the Holy Eucharist, which is the principal celebration of our faith and the means through which we participate in the very life of the Holy Trinity. Learn more»